DenTek® Advanced Clean Professional Oral Care Kit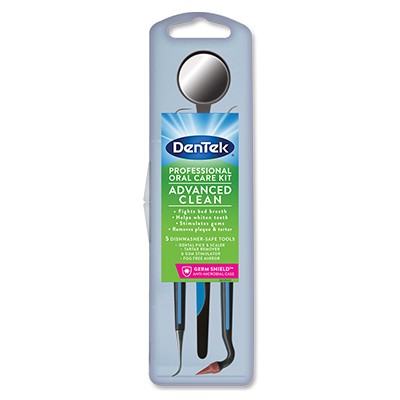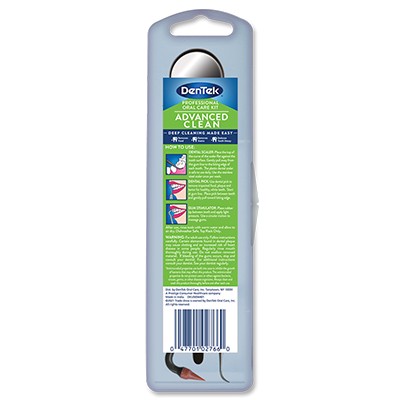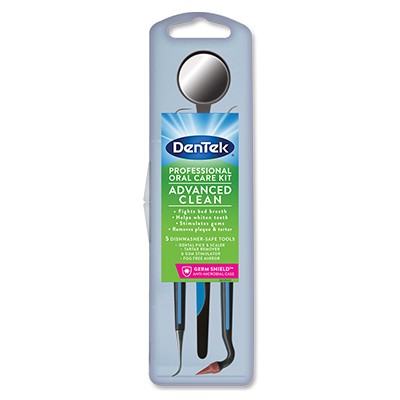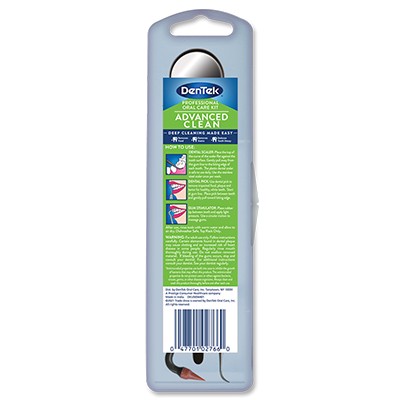 DenTek® Advanced Clean Professional Oral Care Kit
When brushing and flossing just aren't enough, reach for the DenTek® Advanced Clean Professional Oral Care Kit that with dental tools for safe, at-home cleaning
Dishwasher-safe tools help remove food and plaque, stimulate gums, fight bad breath, and whiten teeth Includes stainless-steel pick and scaler for weekly use, hard-plastic scaler for daily use, rubber gum stimulator, and fog-free dental mirror
Dental Scaler:

Place the top of the curve of the scaler flat against the tooth surface.
Gently pull away from the gum line to the biting edge of each tooth.
Plastic Dental Scaler is safe to use daily.
Use the Stainless Steel Scaler once per week.


Dental Pick:

Use dental pick to help remove impacted food, plaque, and tartar for healthy, white teeth.
Start at gum line.
Place pick between teeth and gently pull toward biting edge.


Gum Stimulator:

Place rubber tip between teeth and apply light pressure.
Use a circular motion to massage the gums.
After use, rinse tools with warm water and allow to air dry.

Dishwasher top rack only.

For adult use only. Follow instructions on pack carefully. Regularly rinse mouth during use. Do not swallow material removed. If bleeding of the gums occurs, stop and consult your dentist. For additional questions, contact your dentist.