Get Your Smile Red Carpet Ready this Award Season!
---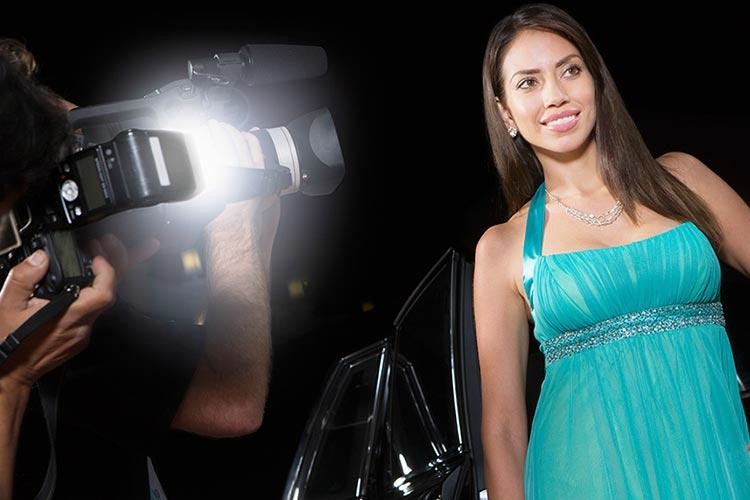 With the SAG Awards coming up on January 30 and The Oscars following on February 28, it's safe to say that award season is in full swing. And if you're like most people, you probably enjoy gawking at all the red carpet looks—from the gowns to the hair to the jewels. Another accessory we can't help but notice? Celebrity smiles!
From Julia Roberts' beaming grin to George Clooney's pearly whites to Angelina Jolie's famous pout, celebrities have cornered the market on dazzling smiles. But there's no need to be a star in order to achieve a healthy, white smile of your own. We're here to help with a few celeb-inspired tips!
Floss Like You're Famous
Ready for your close-up? Not if you have spinach in your teeth! Thanks to life in the spotlight, celebrities know to always have floss picks on hand for quick touch-ups. DenTek Fresh & White Floss Picks offer both cleaning and whitening in one handy product. The silky floss is gentle on teeth and gums, while micro-crystals help brighten teeth and remove food and plaque. Tuck a couple picks in your purse or wallet and take on the adoring crowds with confidence!
Whiten Like a Star
Sure, you can go to a pricey Hollywood dentist to whiten your teeth, or you can get impressive results at home at a fraction of the cost. The DenTek Whitening Polisher helps you achieve a brighter, whiter smile in just one use. This once-a-week, at-home whitening treatment can be completed in less than three minutes and is ideal for sensitive teeth, with no harsh chemicals or peroxide. Plus, it's battery-operated for ultimate convenience. A star is born!
Get Film Star Fresh
Even if you don't have on-screen kissing scenes, we're sure you still want minty fresh breath. The DenTek Tongue Cleaner lets you scrape away bad breath odors at the source, with three cleaning edges and a narrow design to comfortably reach the back of the tongue. Pucker up!
Ditch the Dry Mouth
Sometimes when nerves get the best of us, our mouths can get dry. Whether you're a celebrity about to make an acceptance speech or a mere mortal heading to a job interview, you can stop dry mouth in its tracks with the DenTek OraMoist Dry Mouth Patch. This sugar- and alcohol-free patch easily adheres to the inside of your mouth and releases ingredients to keep it moist for hours.
For more ways to achieve a movie star mouth, be sure to explore our site.
As always, feel free to contact DenTek about any of our oral health care products. Happy award season!